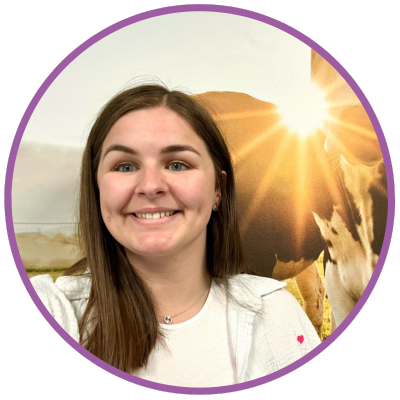 ​
Name: Alice Raven
Role: Recruitment Consultant, Agriculture
Joined MorePeople: May 2023
​
​
​
​
1. Describe your job in three words: Changing people's lives (cringe)
2. What's the coolest thing you're working on right now? Everything… having to learn about farming and the agricultural sector. It's very rewarding.
3. Which famous person would you love to meet? Julie Andrews - what a babe
4. Favourite drink? Coffee
5. Best holiday destination so far? Wales - beaches, mountains... there's no place like it!
6 .What are you currently reading? So many books – but currently 'The Future of Geography' by Tim Marshall.
7 . Current favourite song? "tattoo" by Loreen after it won Eurovision - WHAT a brilliant evening of telly watching that was.
8. If you weren't a recruiter, what would you be? A geography teacher
9. If you had to watch only one tv show over and over forever, which one would it be? Parks and Recreation - I want to be Leslie Knope, she's my icon!
10. What's your biggest claim to fame? My dad taught Ellie Goldings brother PE. Oh a horticultural one for Guy... I've met Adam Frost!
11. Where were you born? Little ol' Hereford. Land of cows, cider and fruit farms!
12. What's your proudest moment? I tiled a bathroom once, all by myself… that was a good moment (one to never be re-lived!)
13. Dogs or Cats? DOGS! My border collie Lara specifically!
14. Which football team do you support? Yawn, football 🥱
15. What skill do you wish you possess? Language learning. I'm in ore of people who can speak multiple languages. I can barely manage English!
16. What's your guilty pleasure? Musicals... although I feel no guilt!
17. What did you want to be when you were a kid? An RAF pilot. Shame I have terrible eyesight!
18. What three things are you taking to a deserted island? Jaffa cakes, an iPod (throwback) full of songs and a bookshelf full of books. Will it all fit in my backpack?
19. Do you have any phobias? Small spaces. And death. (Wow that's a bit deep sorry)
20. Where are you next going on holiday? Switzerland
21. What's your least favourite household chore? Everything. All of them. Particularly hoovering and the bins and mowing the lawn and changing sheets and cleaning the bathroom...
22. Describe MorePeople in three words: Successful, Supportive, Skillful
23. What do you love most about your sector? I'm on Agriculture, dealing with farming folk!
24. Who inspires you? My mother. What a gem that woman is! Never fails to amaze me.
25. What is the worst job you ever had? Worked at Clarks fitting school shoes for children. Once I was hungover and almost vomited on a child.