9 months ago by Natalie Smith
​We're no stranger to attending universities and raising awareness of our industries!
This week Sarah attended Writtle University College at their Agriculture, Horticulture and Food careers roundtable event. These events are more intimate than the bigger, busy career fairs and enables the students time to learn about the different opportunities within our industries.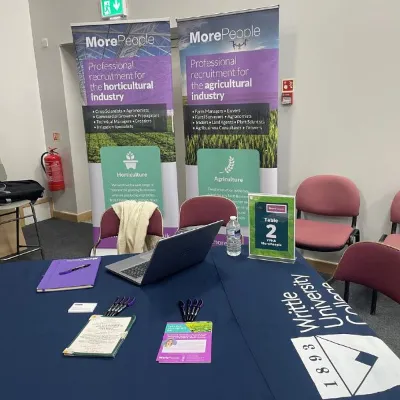 Sarah joined the table with others from the likes of Lea Valley, BerryWorld, G's, Hugh Lowe Farms and more to discuss career pathways with students from the hort and ag courses.
Established in 1893, Writtle University College (WUC) has been producing leaders in the land-based industries and organisations for 130 years.
Writtle University College is one of the oldest specialist institutions in the UK and offers a range of land-based, animal and sport courses at various levels of academic study including Postgraduate, Undergraduate, Further Education, Short Courses and Apprenticeships.
The industry often bemoans the lack of talent coming into our wonderful sector so it's important that everyone plays their part to encourage future superstars. We do what we can to talk to students at careers fairs and events and we love the fact that we have so much strength in depth with our team of consultants. Sarah is doing a great job with the extracurricular events in commercial horticulture. We've got plenty more in the diary across all our specialisms – watch this space!
​