10 months ago by Natalie Smith
​A busy February for MorePeople's Horticulture Team Manager Sarah Want, who attended multiple events not just in England, but Belfast AND Berlin!
Sarah gives us a run down of her travels, flying the Horticulture flag!
BPOA Technical Conference
"The conference was to talk about the world of growing ornamentals. Felicity and I were able to listen to a number of talks from Boyd Douglas-Davis (British Garden Centres), Richard Hopkins (Fargro), Jack Ward (British Growers Association), David Talbot (ADAS), Neal Wright (Beadamoss), Mark Else (NIAB), Michael Smith (WD Smith), Kate Cooney (Perennial), Chris Jones (City and Guilds), Co-Anne Kranenburg (Klassman-Deilmann) and Kathryn Smethurst (Priva).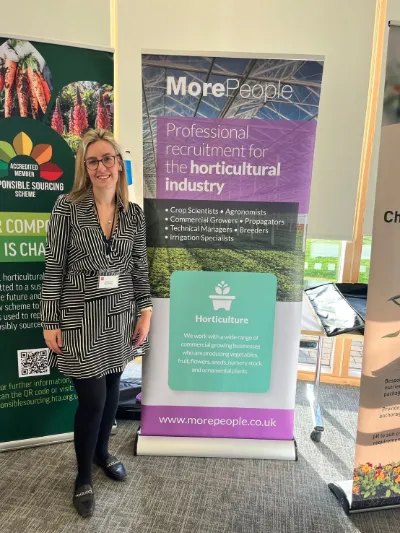 It was a great insight into the struggles/achievements and plans for the ornamental world. It goes to show how resilient and open to change we are as an industry, but also how we're trying to support the next generation of horticulture. I found the talk from Beadamoss particularly interesting, and understanding their motivations behind growing Sphagnum moss and how this could help the industry as a whole."
YPHA Event
"This was our third in person event, following the success of RHS Wisley and also a North West trip. This time, we held the event for our members at Coolings Garden Centres and Nurseries in Kent. We work to try and get our in-person events across different regions in the UK, in an attempt to make it accessible for all at some point. A total of 65 members came to the full day event which is fantastic to see!
Our first talk came from Ian Hazon, Production and Operations Director of Coolings. During this talk, Ian talked us through his history and how the business has evolved, along with an interesting explanation of their Employee Ownership Trust scheme, where employees own 75% of shares.
This was followed by a tour of their nursery production area and then a tour from Liz Dowling, a Freelance Marketing Consultant. Liz explained to us the value of understanding the 'why' of the business you are working for. Does the business's mission, vision and values match your own?
Our third and final talk of the day came from Adam Frost, who left our members inspired by how he has built his career.
For me, I found the talk from Adam particularly inspiring. You could see from the members listening the excitement in understand how Adam has achieved what he is, and that it's actually realistic for young people to have a hugely successful career.
YPHA is going from strength to strength and we've never been busier! We've hit the 400+ mark in membership, we're attending more trade shows than ever and also hosting monthly seminars for our members covering a whole host of topics. The committee work so hard to provide the best for our members and we're so proud of everything we've achieved so far.
We've recently announced our Key Partners and our first set of supporters. Our Key Partners are: Floramedia, ICL, Boningale, David Austin and RHS. Supporter wise, we have BALI and MorePeople renewing for a second term and new are Evergreen Garden Care, Garden Media Guild and Majestic Trees. Watch this space for a next announcement!"
Guy Moreton, Executive Chairman also comments;

"MorePeople are delighted to be supporting THE FUTURE of our brilliant industry. This brilliant initiative (The YPHA) is really needed at the moment, Horticulture is a great sector to be involved with but we are really bad at promoting ourselves, especially to people who have not been born into the sector. The YPHA aims to help raise the awareness of the huge number of opportunities in the industry for young people to build a fabulous long term and fulfilling career. And we should ALL do as much as possible to help them in this admirable objective".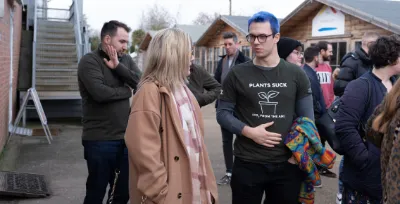 ​
​
​
​
​
Talk at CAFRE
"CAFRE is the College of Agriculture, Food and Rural Enterprises. It's based in Northern Ireland and offers a huge range of qualifications for people wanting to get into agriculture, horticulture, food and associated industries.
I hosted a talk on life after education, what employers like to see and what you can actually achieve in Horticulture. For me, it's really important to get away from the view 'you go into Horticulture if you don't do well at school', because there's huge salaries, career progression and opportunities within the industry – some where you don't even touch a plant!
I think the students were quite taken aback at the opportunities there really are within horticulture. People assume you can be a gardener, landscaper or work in a garden centre but realistically, there are 100's of other roles. The main point I left them with is that their first job after education probably won't be their forever job, but they need to think about what they can get out of it and how they can support the business, to get where they want to be in the future. Nothing is set in stone!"
Sarah also joined other members of the MorePeople team to Fruit Logistica in Berlin, which you can read all about here!