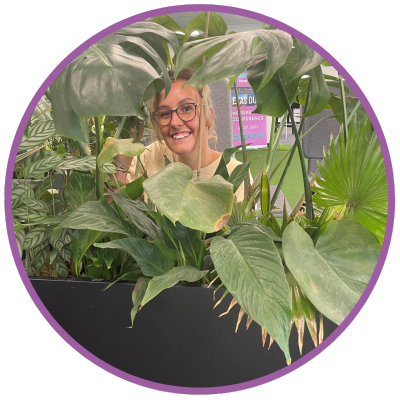 ​
​
​
Name: Sarah Want
Role:

Consultant, Horticulture & Agriculture
Joined MorePeople:
April 2019
​
​
​
1. Describe your job in three words: People, phone calls and plants
2.What's the coolest thing you're working on right now? I'm currently working with a global seed business who are looking to bring in someone to support in new product development and aid the UK business! It's super interesting. How cool would it be to say you're someone that supported in bringing a brand new variety of veg to the supermarket shelves?
3.Which famous person would you love to meet? Adele
4.Favourite drink? Spiced rum and coke but if I'm on holiday it's got to be a Fanta Lemon.
5.Best holiday destination? So far Canada was the best! We spent one of the weeks travelling through and staying in the Rockies. Got to see some breathtaking views, went white water rafting and hiked around Lake Louise.
6.What are you currently reading? Tim Weaver – The Last Goodbye
7.Current favourite song? I've recently discovered the artist Luke Combs and listening to anything by him
8.If you weren't a recruiter, what would you be? My dream, if money weren't an issue, would be to open up a dog rescue centre and help to rehome dogs from all over. Although I'd probably end up being a crazy dog lady and keeping them all.
9.If you had to watch only one tv show over and over forever, which one would it be? This is a tough one! I rewatch The Walking Dead, Greys Anatomy and Brooklyn Nine Nine over and over so probably one of those.
10.What's your biggest claim to fame? I have absolutely no claim to fame
11.Where were you born? Peterborough – I haven't strayed very far from home!
12.What's your proudest moment? Probably going back to Ghana for the second time volunteering. I got to stay in the place I built the last time and saw over 100 children learning in a school I helped to build.
13.Dogs or Cats? Dogs, forever. I'm dog-obsessed – even have a small tattoo of my pooch!
14.Which football team do you support? Brentford. They won me about three bets in a row 5 years ago and been a fan ever since!
15.What skill do you wish you possess? I'd love to be able to speak multiple languages
16.What's your guilty pleasure? TV series. I have watched an unhealthy amount of TV and I'm always asking for new recommendations!
17.What did you want to be when you were a kid? I can't remember what I did yesterday, let alone what I was thinking when I was a kid
18.What three things are you taking to a deserted island? Bottle of water, firelighters and a knife
19.Do you have any phobias? Needles – which is ironic given I have a fair amount of piercings and 3 small tattoos
20.Where are you next going on holiday? Agadir in Morroco. Counting down the weeks for some winter sun!
21.What's your least favourite household chore? Hoovering – I pass that job on!
22.Describe MorePeople in three words: Friendly, busy and fun
23.What do you love most about your sector? I think I say it over and over but I love the people. Trade shows are the best place to be and everyone genuinely loves what they do. Even on bad days Horticulturalists find a positive.
24.Who inspires you? My parents
25.What is the worst job you ever had? I haven't had a job that I've genuinely hated before. There are always parts to a job you don't like. I always dreaded managing my Waitrose branch's annual stock take