over 2 years ago by Claire Smith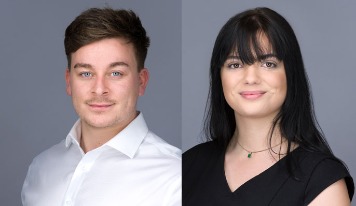 ​After a record-breaking start to 2021, we have recently welcomed two new recruitment consultants to the team. Chris Williams and Tor Newcomb completed the MorePeople Academy induction training programme over the past three months, and both have already supported the wider team and made several successful placements themselves.
With the foodservice industry beginning a return to normality and the fresh produce, horticulture and agriculture sectors continuing to flourish, the number of job opportunities continues to grow. If 2020 was a year of uncertainty and volatility, then 2021 seems to be the year of decisiveness and the spirit is to 'get things done'.
Chris joins Will Thomson in our Operations team, focusing on Operational, Production, Factory Management, Engineering and Health & Safety roles in the food and fresh produce sectors. Tor is the latest addition to our Commercial function, working alongside Morten Andresen and clients in the food and fresh produce industry.
Managing Director, Andrew Fitzmaurice, expects the business to keep growing:
"It is fantastic – having come through 2020 positively – to now be making massive strides in 2021! We have a very exciting five-year plan in place and a tonne of opportunities to make the most of, not just for the business as a whole, but for everyone at MorePeople.
Our growth is intrinsically linked to adding great new people to the team, so I am super excited about what the future looks like for Chris and Tor. Two great new additions who are doing really well and have immediately fit into our culture. As our values state:
We take pride in what we do

We put our customer's needs in front of our own

We create a fun and supportive environment

We always aim to have a positive impact on others

We strive to continually improve

We are advocates of our sectors."
Chris and Tor have been living and breathing these since they started, and they have a bright future ahead. We're going to keep hiring as we have so much more work to deliver and value to add to our customers."
Click here to find out more about what it's like to work for MorePeople, call us on 01780 480530 or email info@morepeople.co.uk.