We can find the right fit for you!
As a specialist recruitment business, we have been involved in the recruitment of Non-Executive Directors for some years and are often asked about the value a NED brings and how a business goes about recruiting for this important role.
Becoming a NED is a great way to progress your career even further after experience in director/CEO roles, passing on your knowledge and expertise in areas you're passionate about – giving just a day or two per month.
Whether you're looking for a Non-Executive Director for your business, or to secure your first NED role, we can advise you on the process, the benefits, the legalities and so on.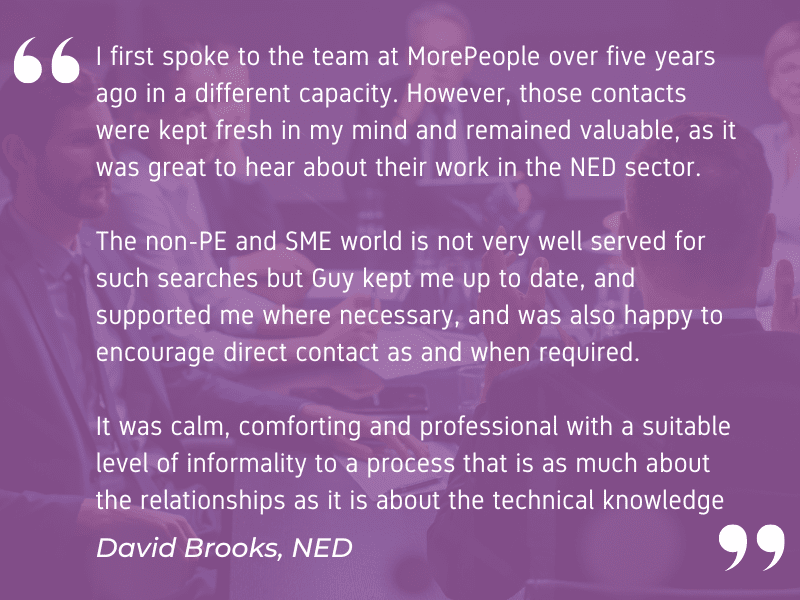 Your Non-Executive Director Career…
You may be an experienced NED, or want to start out with your first role alongside your current director role. We can help build your portfolio and map out where you can position yourself.
Using our experience we can advise on the common 'dos and don'ts' in the first year, and also help identify when you may be ready to take on a second or third NED role.
We also have an extensive network of connections who can help with your professional development of being a NED.
Why does a business need a NED?
Having someone there to listen to you is something that not many senior executives realise they need until they have it for the first time and start to appreciate just how valuable it is. Being an MD or a CEO can be incredibly lonely – 'it's lonely at the top' is a phrase that so often gets banded about when discussing the need for a NED.
Having someone there whom you can openly talk about ideas with, however obscure, or voice concerns, can take a real weight off your shoulders. These are not necessarily things you want to discuss with your wider team. You're in charge, you need to be seen as knowing what's right but these are not easy decisions to make in isolation. You need a sounding board and a critical friend.