almost 2 years ago by Natalie Smith
​MorePeople and the YPHA!
The Young People in Horticulture Association (YPHA) was formed in January 2020 to unite the under 35s working in horticulture. They aim to raise awareness and appeal to a younger demographic than the industry previously has done.
We're lucky to have two active members of our team involved with the YPHA, Sarah and Chris, helping introduce young people into the world of horticulture with their own knowledge and passion within the industry.
Sarah specialises in recruitment in the Horticulture and Agriculture sector here at MorePeople, "YPHA are a fantastic collective, with a goal to promote the industry and show what sort of opportunities we can offer. Horticulture typically gets stereotyped into 'dirty hands-on' work but there is so much to the sector. Think about where you get your Christmas trees, houseplants or bouquets of flowers from – to get them into the customers hands there will have been growers, quality controllers, buyers, despatchers and so many more people involved! I personally got involved with the YPHA after hearing about it from my network. I have recently taken on the role of blog and social media assistant and I can't wait to get more stuck in."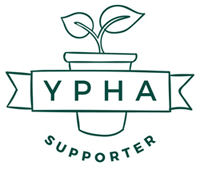 The Plant Based Podcast
Sarah and Chris recently took part in their first podcast! Being active members of the YPHA, they joined The Plant Based Podcast to discuss some key issues surrounding young people in the world of gardening and horticulture, sharing their views and experience from inside the industry. You can take a listen here.
YPHA's first in person event!
February 3rd will see the first in person event hosted by the YPHA, which MorePeople are very excited to support and attend. Chris will be joining the event at the RHS Wisley gardens; "As the majority of my role is networking and meeting new talent, I cannot wait to join the YPHA for our first live event since the beginning of Covid'19. I started my horticulture career after being inspired by the industry experts that I met at GLEE and haven't looked back. I look forward to meeting everyone in person, broadening my network with like-minded people who have a true passion for the industry."