over 1 year ago by Natalie Smith
Aidan heads up the Finance desk here at MorePeople, dealing with an array of Finance roles within the Food, Fresh Produce, Agriculture, Horticulture and Garden & Leisure industries. He also recruits for professional services such as HR, IT and admin roles.
​What did you want to be when you were at school?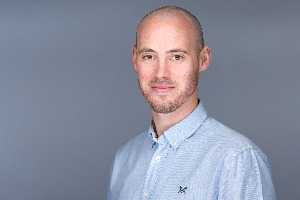 Fireman (like my dad) Don't really know why I didn't pursue it, too hot probably.
How did you get into recruitment?
'Fell into it' classic line, I had done a couple of field sales roles and it seemed a natural next step.
What do you specialise in at MorePeople?
Finance and Professional Services – HR, IT, Admin, the works.
What's been the biggest challenge you've faced since working at MorePeople?
Staying on the emotional roller-coaster that recruitment is, managing your own expectations against the fact that we are dealing with people's next massive life decisions.
Something on your bucket list you're hoping to tick off soon?
Go to an NFL game in America (done London so getting there)
The best piece of advice I've ever been given is…..?
To give up on my hair…
Cats or dogs?
Cats, I do like dogs but some are just too needy.
​