over 1 year ago by Natalie Smith
​We've had our first office graduation this week from our newly structured MorePeople Academy!
Natalie Dunne and George Mallender are now settling into their new desks in their world of recruitment. Natalie will be working on our Professional Services desk working on roles within HR, Finance, admin and IT along side Aidan. While George joins Tim on the Rural Professionals desk where he can make the most of his background and expertise from the farming world.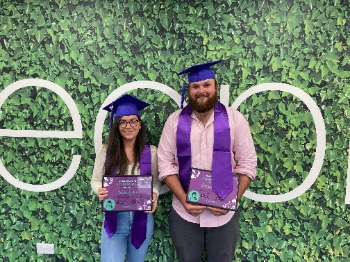 Tom Edmondson-Matthews officially took on the role as Head of Academy back in March this year, where he is responsible for the onboarding and training of our new recruits with a proper structure for new starters to make the most of their first 3 months.
Tom Edmondson-Matthews, Head of Academy, comments;

"It's great to see our new recruits take to their new careers and come through our training program and onboarding process with the new MorePeople Academy. I hope I've given Natalie and George the best possible start at MorePeople and I'm sure that they will go on to do great things. The move to our new offices means we have loads more space for breakout sessions and training and it's a great time to come and join the team."
We're always ready to take on new members of the academy and join the MorePeople team in our growing Stamford business! If you're interested take a look here and get in touch!
Natalie Dunne comments on her time in the academy;

"I joined MorePeople with no previous experience in recruitment at all so it was a whole new world to me! My time in the Academy meant I could get the best possible start to my career by receiving the support and training from not just Tom, but everyone else at MorePeople too.

Naturally, there were areas that I progressed in quicker than others, but the structure of the Academy allowed me to explore those and ensure I was fully prepared and confident when moving onto my permanent desk. The overall onboarding process is one of the best I've had at any job and I think those that join us in the future are going to massively benefit by having this brilliant kickstart to their career in recruitment."
It won't be long until our next academy member will be graduating, and new academy places will be taken!
​