about 1 year ago by Sarah Want
Sarah has spent the summer attending some of the biggest horticulture trade shows in the UK and has shared her reviews and comparisons of them all…
National Plant Show
The details: June, NAEC Stoneleigh, ~120 exhibitors
Overview: It's the first time I've been, and the first time the show has been on since 2020. I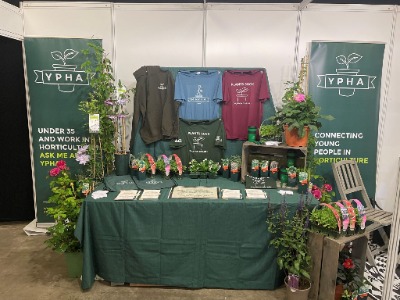 went for day two.
I found the show fantastic. The exhibitors put a real effort into their displays it really highlighted the work commercial growers do across the country. There was a good footfall and overall, the show was really well organised.
I was there representing the YPHA, we had a stand in a great location and got to meet lots of members as well as highlighting to new members (from which we picked up ~25 new people). I spent some time with my MorePeople hat on, walking round and meeting lots of existing clients and candidates.
I took part in a talk about getting young people into horticulture, the turnout was reasonable and the audience who were there seemed receptive with a couple of people coming up to me after to talk about thoughts/ideas.
I liked the way the talk was set up, done in an area that was easily accessible and people walking round who weren't originally attending the talk were able to stop and listen.
The verdict: Overall a great show. I think people got a lot out of the event and well worth a couple of days to meet people. ​
​
GLEE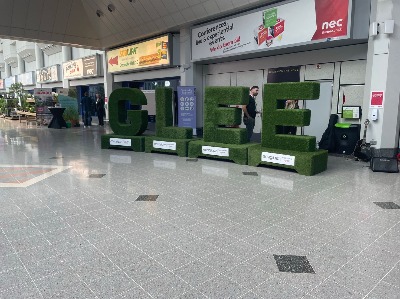 The details: June, NEC, ~400 exhibitors across a huge variety of suppliers into Garden Centres
Overview:This was the second time I've been to Glee (the first time we did a day walking round in 2020), this time I spent a day representing the YPHA stand.
I think the number of visitors this year was considerably less than years gone by, it seemed quieter around the whole of the NEC.
The show is great as you can meet all your suppliers/potential suppliers over the course of two days. For Garden Centres, it's a real opportunity to look at current ranges and what they can introduce moving forward.
Glee had a lot of great talks from industry professionals about their careers, challenges and other things impacting the industry
They also had a new products award which highlighted talented winners across a variety of sectors including garden décor, growing materials and garden tools.
The verdict:I think the show had its benefits, but the time of year made it a challenge for a number of people to attend. I don't think the footfall was fantastic and the layout of the show meant we were incredibly quiet with very few visitors coming over or even seeing the stand. ​
Four Oaks
The Details:September, Four Oaks Cash & Carry, Cheshire, ~roughly 300 exhibitors including growers, horti machinery, horti associations and propagation specialists.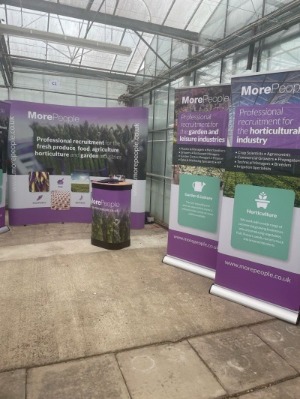 Overview: First time I've been but MorePeople have exhibited for the last 15 odd years.
The show was fantastic. It stood out against all other trade shows I've been to. The staff there made sure we were looked after with endless amounts of tea, coffee, water, biscuits. The interesting thing about this show is people were coming from all over the UK and Europe to attend.
The benefits for me were getting to meet candidates/clients that I haven't before, and probably wouldn't have if it wasn't for the trade show. The speakers were great with a lot of relevant topics and were announced with plenty of promotion about the talks throughout the event
I sat on a panel discussion with 3 others about the way to get young people into the industry. A good turnout of ~25 people and something that is such an important topic.
They also hosted (for the first time) an awards do which was held after the event closed on Tuesday. This highlighted four people, who were nominated by their peers for being excellent in the industry, they then did a product award which ended the first day on a high.
The YPHA were also there exhibiting which again, was very beneficial for us.
Verdict: Probably my favourite trade show of the year. There were so many relevant visitors, talks and it just highlights the passion in the industry. We were so well looked after and all made to feel valued and important when exhibiting.
​
Sarah's advice on prepping for a trade show
•My advice is to do your research. Find out who is there and who you want to see. Some of these events are so big that if you don't plan then you won't be able to make it round everyone. Reach out to people beforehand to let them know you'll try to come over during the show.
•Take lots of water and wear comfy shoes! You're on your feet all day and it can get quite tiring.
•Business cards aren't dead yet! You end up speaking to so many people it can be hard to keep track. So, ask for business cards, take your own and follow up afterwards because there are so many opportunities.
​