11 months ago by Natalie Smith
​We've recently caught up with City Harvest, and all the amazing work they do within our industries combating food waste and providing free food for the many different projects and people that need it.
City Harvest was founded in 2014 by a small group of people, who came together to address food waste and food poverty in the capital, forming London's first food redistribution charity. City Harvest puts surplus food to good use in a sustainable way by delivering free food for over 1 million meals a month to 350+ charities, including; children's programmes, food banks, refuges for women fleeing domestic violence and families fleeing war-torn countries, andlocal groups across London welcoming the elderly and isolated – their charity reaches areas within the M25, but they can collect food nationwide for the cause.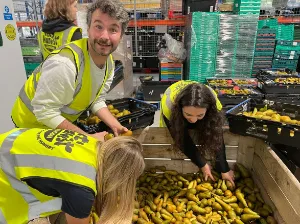 They offer a sustainable solution to the food industry, ensuring any surplus food from any stage of the food chain is rescued and not put to waste.
Wastage from product development trials, to surplus in manufacturing, distribution and retail – they'll work at every level of businesses who have excess food that would otherwise go to waste, stopping the waste and get it to people facing food poverty using their fleet of 18 vans delivering to their 350+ network of charities across greater London.
In December 2022 City Harvest provided 1,058,117 meals, which is 12% more than they've ever done before. They also had 41% less waste from our December donations saving more than ever before. This adds up to a total greenhouse gas offset of 64,000 tonnes of CO2 equivalent to date.
Sarah Calcutt, CEO, comments;
'We are in the business of saving surplus food to feed hungry people, working with food and hospitality businesses to ensure good food doesn't go to waste. We also carbon count the donations, returning stats back to the donors for their sustainability reporting; supporting both ends of our food relationships.

We don't charge for the food that we share, some of our peers do. Free food means that the scarce funds of charities are instead invested in support and services aimed at helping people get back on their feet – mental health support, training for work, benefits advice, access to technology and a lot more, hopefully getting them to a point where they won't need nutritional support.

Over the next year, you will see us extend our network nationally, working in partnership with other organisations to ensure that good nutrition reaches those who need it most.'
Harvest for Hunger
The Harvest for Hunger initiative, which runs from March – October each year, allows City Harvest to access surplus produce earlier on in the supply-chain, preventing waste further down the chain, and providing the right, nutritious food to its charity partners.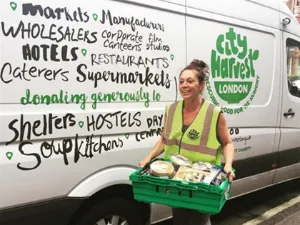 Working with City Harvest means large-scale food producers can reduce their climate impact.
Many of our clients already work with City Harvest, and we'd encourage any suitable businesses that are looking to be more sustainable and reduce their food wastage to get in contact, City Harvest may be the perfect solution!
​
​