11 months ago by Natalie Smith
This year we're launching the MorePeople 5 Questions! A series of insights from leaders within our industries.
Each week we enjoy catching up with visitors at our office and beyond all of which have impressive career histories and brilliant knowledge, experience and insights into our world. So, we've decided to fire our questions and share them with you all!
Kicking off is Geoff Calder, Geoff has been in the food industry his whole career. He was with Northern Foods for 10 years, then Allied Domecq, followed by 14 years at McCain Foods as UK MD and CEO of the South African business. Geoff was then MD of G's Fresh for 8 years and now is a NED for a number of businesses.
What's the single biggest challenge facing our industry today?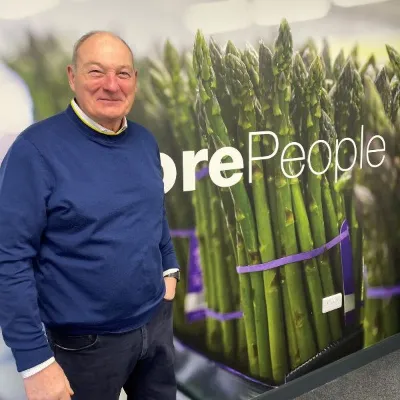 "I'd say it's value perception in terms of the produce sector in general, the health, environment and food security credentials of UK agriculture and food production are massively misrepresented in the retail price charged and merchandising investment of UK retail. It needs completely reinvigorating.
UK food security is paramount …we should be seeking to be self-sufficient…not running off to Italy for eggs etc when the going gets tough."
What do you think the next big product / piece of tech will be?
"Difficult one – I suspect something around packaging and vehicle we buy in, so paper or other more sustainable alternatives.
Also, the manner in which we buy - the end of individual scanning. I can see a version of picking your groceries into bags and walking through a checkpoint and being charged automatically. No check out assistants provides huge cost savings to retailers!
In terms of agriculture, I think there will be more AI and investment in Robotics. In Retailing, perhaps further consolidation of stores.
However, a hard question to answer given how dynamic the world stage has been over the last few years!"
What do you like most about our industry?
"The ever changing dynamic of the retail industry – its variety and particularly the 'can do' spirit."
What was your first ever job in our industry?
"Began working to become accountant but then joined Northern Foods, Allied Domeq, McCain then the Shropshire group. 4 main roles and each time a head-hunter contacted me!"
What piece of advice would you like to give to your 21-year-old self?
"Always be inspiring, but also be inspired, work hard and continually challenge yourself.
My personal adage, 'A mistake is never serious unless it's repeated' and to finally, find a mentor."
​
​
​