​We're delighted to announce that Richard Harrow is officially an associate of MorePeople!
Richard has a fantastic background in the private label market. He was MD of Freiberger UK for 22 years, building the business from a small player in the U.K. market to the number 1 supplier of private label frozen pizza in the UK. Following this he was CEO of the British Frozen Food Federation for over 3 years.
Richard now utilises his expertise and unique insight of the private label market through IPLC, a boutique consultancy with partners throughout Europe and the USA
What better way to introduce Richard than hearing his thoughts on our 5 questions…
What's the single biggest challenge facing our industry today?
People – finding good people across all roles and all levels.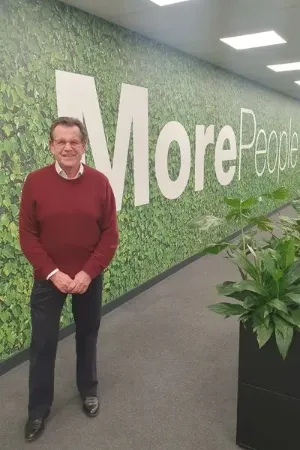 As an example, historically big brands would initially train field salespeople who would then go out and developed to become National Account Managers, but this doesn't seem to happen now. So, there aren't enough people coming into the industry.
What do you think the next big product / piece of tech will be?
Without a doubt, Artificial Intelligence. Probably within sales forecasting and stock management, and in areas we don't even know about yet!
What do you like most about our industry?
The variety and the diversity.
So many people don't understand the breadth of roles in the industry. I was once asked to name a job title that most people wouldn't know about, and I answered 'Food Stylist'. How many people know about food styling? But it's actually a fantastic role which can be done part time and pays well. So many people don't know the many fantastic opportunities up for grabs in the food industry.
With my private label business background, I developed a wide understanding of the whole supply chain and all the functions within it. There are so many job roles available.
What was your first ever job in our industry?
I worked on the delicatessen counter at Bishops (now Budgens) cutting bacon and cheese. I did this for a number of years before moving into head office and up the chain!
What piece of advice would you like to give your 21-year-old-self?
3 things…
Don't be afraid to try something – you'll be surprised by your ability.
Don't stay in a job you don't like!
Don't chase the money! Work hard, and money will eventually come and you'll benefit from the work you've put in.
​