​Aggie is the CEO and lead consulting director of Mahogany Inclusion Partners. Aggie is a passionate Inclusion and Anti-Racism expert, Executive Coach and engaging speaker who excels at partnering organisations to build cultures where everyone can thrive. Her recent accolades include being voted a top 20 Most influential HR thinker in 2022 by fellow people professionals. She works with C-Suite leaders and their teams to deliver DEI strategies and anti-racism strategies. Cross industry organisations she has supported include global FTSE100 organisations, consultancies, retailers, third sector and public sector organisations. She is a trusted advisor for the CIPD and an engaging speaker, most recently for the CBI, FTSE 100 organisations and the CIPD Annual Conference 2020.
Aggie recently joined Guy on a panel at the International Food and Drink event on the power of succession planning and has some excellent insights into our questions...
What's the single biggest challenge facing our industry today?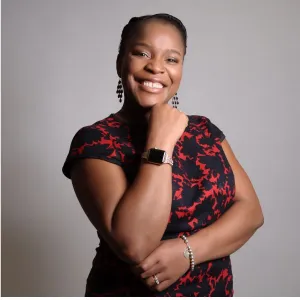 The biggest challenge facing leaders in our industry is labour shortages. Regardless of size or type of operation, organisations across the food chain are facing staff shortages and the challenges this brings.
To mitigate against this, it is vital that organisations build strategies that highlight them as employers of choice. These strategies include diversity, equity and inclusion, wellbeing and talent management strategies.
Being an employer of choice through these strategies will support organisations to attract and recruit their workforce and, importantly retain them so they can improve productivity and remain competitive in a challenging market.
What do you think the next big product / piece of tech will be?
I and my family have allergies. I am impressed with how the food industry has developed over the last few years when it comes to catering for and providing information about allergens whether that is ingredients listing on boxes, specific food ranges in supermarkets or special menus in restaurants. I think the next big thing will be a continuation of catering and providing information about food style choice and diets. I see in the near future keto, no carb, paleo ingredients information, supermarket sections, food ranges menus and maybe even restaurants.
What do you like most about our industry?
I love the variety and vibrancy of our industry. From farm, to logistics, right through to plate, whether that's in the home, in a hotel or in a restaurant, I love the breadth and diversity of products, roles and focus across the industry. We have so many people, roles, functions and organisations all playing their parts in different ways, collaborating and coming together to deliver a wonderful (often life sustaining) product. I think this is truly beautiful.
What was your first ever job in our industry?
My first job was part time, working in a fast food chain (not the golden arches), when I was 17 while I studied for my A'Levels. I loved the buzz of a busy restaurant and the variety of customers who we served. I also loved the camaraderie and the fun we all had as colleagues in the restaurant.
What piece of advice would you like to give to your 21-year-old self ?
My advice would be to be yourself, to bring yourself to what you do, to do it well and to enjoy the journey. We are at our best when we can be our full selves, that is why creating inclusive environments is so important, that is how organisations get the best out of their people, that is how organisations win.