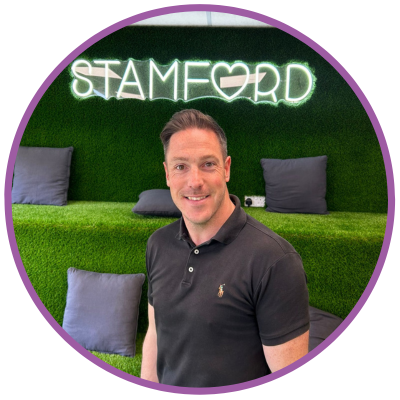 ​
​
Name: Richard Hanwell
Position: MD
Time at MorePeople: 2 years & 6 months
​
​
​
​
1. Describe your job in three words: Exciting, Fun, Strategic
2. What's the coolest thing you're working on right now: The growth of the team and overall business in order to hit our 2025 goal.
3. Which famous person would you love to meet: Sir Alex Ferguson
4. Favourite drink: Erdinger Alkoholfrei
5. Best holiday destination so far: Boracay
6. What are you currently reading? Think Again, Adam Grant
7. Current favourite song: How Does It Feel – Tom Grennan
8. If you weren't a recruiter, what would you be? – Broke
9. If you had to watch only one tv show over and over forever, which one would it be? Probably Friends although I can finish nearly ever joke that they make already..
10. Where were you born? Stamford
11. What's your proudest moment? Becoming a father – I now have four children and I am done!
12. Dogs or Cats? Dogs
13. Which football team do you support? Manchester United
14. What skill do you wish you possess? Patience or the ability to not get embarrassed!
15. What's your guilty pleasure? Stalking houses I cannot afford on rightmove (daily)
16. What did you want to be when you were a kid? Professional Cricket Player or a photographer
17. What three things are you taking to a deserted island? Tough one as I have four children and a wife so can I take five things please….
18. Do you have any phobias? Snakes, they freak me out.
19. Where are you next going on holiday? Caribbean
20. What's your least favourite household chore? Ironing, I have NO patience.
21. Describe MorePeople in three words: Dynamic, Progressive, Fun
22. What do you love most about your sector? Everyone has an affiliation with it as we all eat. The industries resilience is second to none.
23. Who inspires you? My parents and brothers
24. What is the worst job you ever had? I haven't had any shocking jobs but prior to driving I used to have to get a 5:30am bus to one of my first jobs which sucked!
​