5 months ago by Natalie Smith
​We're continuing to support Gordon Miller and his Ride for Freedom initiative as he successfully raises awareness to end modern slavery.
His most recent tour last month was to the Basque Country, cycling the first 3 stages of the Tour de France in the week before the professionals & visiting football clubs including Athletic Bilbao and Real Sociedad.
"The Ride For Freedom Basque Tour reinforces the not - for - profit's #ShowARedCard campaign that raises awareness of human/child trafficking in sport. The Trafficking in Persons (TIP) 2020 Report notes that "within Europe's soccer industry alone, it is estimated there are 15,000 human trafficking victims each year""
Why did you decide that you wanted to ride stages of the Tour de France?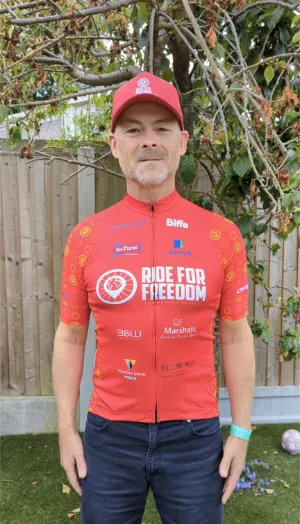 It's simply the most iconic and challenging bike race in the world. It's also one of the toughest. So, I figured if I took on the challenge it could help to raise awareness of human trafficking, a form of modern slavery which is the cause of all my bike rides, and it would also fundraise for Ride for Freedom. This is the nonprofit I founded and lead that harnesses cycling to empower survivors of modern slavery to cycle to support their physical and mental health and to rebuild their lives. We do this by giving them to keep bikes and accessories and cycling proficiency and road awareness training.
Tell us about the 3 stages you plan to take on?
On 26 June, it's the first stage around Bilbao. It's 185km and 3,200m. 2 days later, the ride is 210km and a climb of 2,900m on stage 2 from Vitoria Gasteiz to Donostia-San Sebastian. Then, on Friday 30 June, the day before the Pro Tour starts in Bilbao, the stage 3 route is 140km along the Basque Country coastline.
What are your hopes for the tour and how does this differ to previous cycles – will it be harder etc…?
My hope is to perform to the best of my ability (given I've been ill), to really enjoy the rides and raise awareness of modern slavery. I take confidence from that fact my previous tour the length of Spain in 7 days was an average of 239km and 2,200metres of climbing per day. So, the first 2 stages are a bit less in distance albeit with more elevation. I did the previous 7-day ride on a pedal-assisted/e-bike. It's no free ride but obviously it's easier - approximately a 50% uplift. This time, to showcase the range of Orbea bicycles, I'll ride both a mechanical bike, called Orca, and an e-bike, named Gain. So that will certainly make the first 2 stages the hardest day rides I will ever have done.
How can we at More People continue to support Ride for Freedom and the Basque Tour?
MorePeople's long-term support has been invaluable to Ride for Freedom's mission of raising awareness and changing lives. I am thrilled and grateful to announce that Ride for Freedom has successfully achieved the stage 1 fundraising target for the Basque Tour. Ride For Freedom are now able to purchase all the necessary second-hand bikes for the transformative Freewheel summer programme in the West Midlands.
But the journey doesn't end here. Ride For Freedom has set its sights on stage two, where we aim to raise funds to purchase an additional 6 bikes for our upcoming Autumn session. Our new target is £1440, and we invite you to join us in this endeavour. Here's the donation link https://donorbox.org/ride-for-freedom-basque-country-tour-de-france-2023
Together, we can make a profound impact on the lives of the Freewheel service users. Your contribution, no matter how big or small, will play a pivotal role in their journey, empowering them with greater independence and confidence as they progress through their remediation process.
​