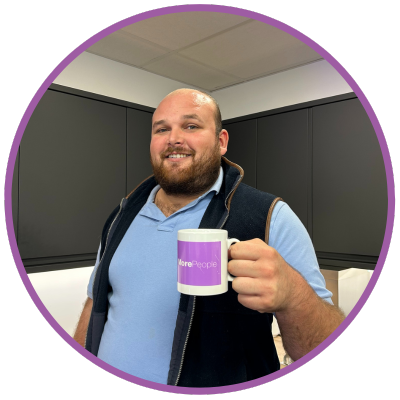 ​
​
Name: George Mallender
Role

: Consultant, Rural Professionals
Joined MorePeople
: April 2022
​
​
​
​
Describe your job in three words: challenging, engaging, fluid.

What's the coolest thing you're working on right now? genuinely nothing cool at the moment, things that I did with environment bank was a lot of fun!

Which famous person would you love to meet? If we was alive it would have to be Jonah Lomu.

Favourite drink? Guinness

Best holiday destination so far? India

What are you currently reading? Lord of The Rings

Current favourite song? ABBA, does your mother know

If you weren't a recruiter, what would you be? ...unemployed?

If you had to watch only one tv show over and over forever, which one would it be? peep show

What's your biggest claim to fame? I worked in the Buckingham palace gardens, she wasn't in at the time.

Where were you born? Winchester

What's your proudest moment? I've not had enough coffee for this kind of searching question.

Dogs or Cats? Dogs, only ever dogs.

Which football team do you support? It's a silly game – Leicester Tigers

What skill do you wish you possess? The ability to fly, short haul flights are a nightmare at 6'4.

What's your guilty pleasure? Kebabs

What did you want to be when you were a kid? My Grandfather.

What three things are you taking to a deserted island? Gin, tonic and Ice. Might as well go out smiling.

Do you have any phobias? Nope

Where are you next going on holiday? Wherever is cheapest when I open up Skyscanner next June.

What's your least favourite household chore? I'm just going to go ahead and say all of them.

Describe MorePeople in three words: Humorous, focused and motivating.

What do you love most about your sector? The collective value placed on caring for the countryside and environment.

Who inspires you? Al Murray

What is the worst job you ever had? Working in a fishing bait factory, the smell was something quite putrid.
​