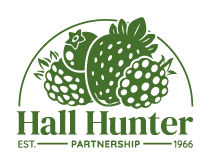 The Challenge
Hall Hunter is a leading berry grower that has been operational since 1966 and now has seven sites across the UK and in Portugal. Having filled a variety of agronomist and grower roles for the business since 2014, we were in a great position to help out when a vacancy arose for a Trainee Agronomist.
Our Approach
MorePeople devote a lot of time to meeting the next generation of talent by attending university events and careers fairs throughout the year, offering careers advice and helping to raise awareness of the opportunities available in the industry.
It was at The Fresh Careers Fair, an annual event in London for graduates and undergraduates, that the MorePeople team met the candidate who ended up successfully applying for this role with Hall Hunter.
Agronomy and Growing has been a growing recruitment specialism for MorePeople over the past four years, so we were well placed to advise the candidate on the types of opportunities available. Having visited the Hall Hunter site in Colworth back in Spring 2019, we had a thorough understanding of the culture and working environment.
Following a successful interview, the candidate was offered the Trainee Agronomist role and was very happy to accept.
Benefits
This placement was the result of the specialist sector knowledge of the recruitment consultant, a clear understanding of the clients' needs and the strength of our university networks.
"At Hall Hunter people are our greatest asset and we need passionate people who share our values. MorePeople first placed a candidate with us in 2014 and, since then, have gone on to fill many more vacancies. I know that I can rely on the MorePeople team to find the right people for our business."
Viliana Ignateva, HR Manager, Hall Hunter Partnership